Rated line pull : 2500 lbs (1133kgs) single line
Motor : Permanent magnet, 0.7kw/0.9hp 12v;0.8kw/1.0hp(24v)
Gear reduction ratio : 153:1
Cable (Dia x L) : Φ5/32"*49'(Φ4mm*15m)
Drum size (Dia x L) : Φ1.24"*2.88"(Φ31.5mm*73mm)
Overall dimensions(L X W X H) : 11.2"*4.1"*4.1"(285mm*105mm*105mm)
Mounting bolt pattern : 3.13"(79.5mm)
Packing size : 48*34*34cm 4PCS/CTN
Weight : N.W/G.W: 20kg/22kg


Notice:
1) Do not use winch as a hoist, do not use for transportaion of people.
2) Don't operate and spool under full load over one minute continuously.
3) While motor is overtheating, please stop for a while to cool down.
4) Limited warranty.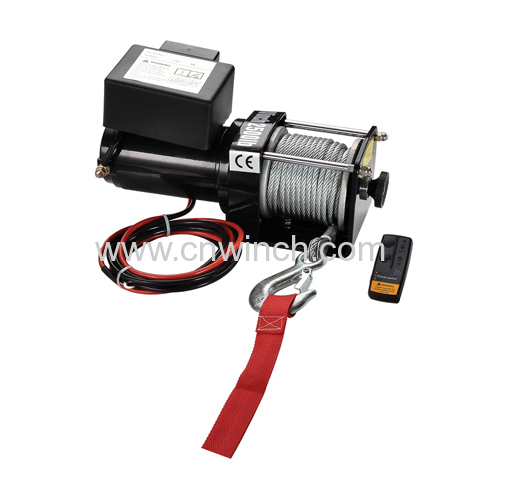 Motor Permanent magnet, 0.7kw/0.9hp 12v;0.8kw/1.0hp(24v)
Gear reduction ratio 153:1
Cable (Dia x L) Φ5/32"*49'(Φ4mm*15m)
Drum size (Dia x L) Φ1.24"*2.88"(Φ31.5mm*73mm)
Overall dimensions(L X W X H) 11.2"*4.1"*4.1"(285mm*105mm*105mm)
Mounting bolt pattern 3.13"(79.5mm)
Packing size 48*34*34cm 4PCS/CTN
Weight N.W/G.W: 20kg/22kg